Mobile aluminum alloy scaffolding, high altitude work required equipment
Mobile aluminum scaffolding is mainly suitable for small working environments that move from one point to another. However, it also needs stable ground to hold it in place and be able to move it easily.
1. Easy to carry
Mobile aluminum scaffolding is known for its movable structure. You can move from place to place with ease. Using wheels, scaffolding can be moved easily with a simple push. However, high quality mobile scaffolding must be purchased.
2. Convenient
Compared with the fixed scaffold, the mobile aluminum alloy scaffold is a convenient and safe building choice. Ensure the safety of workers working on scaffolding. The use of mobile aluminum alloy scaffolding is convenient and safe for the staff. The scaffolding is also protected by wooden planks at the top of the tower, providing little chance of falls or dangerous accidents. All safety components are provided with the bracket. Assemble only when used during the configuration process.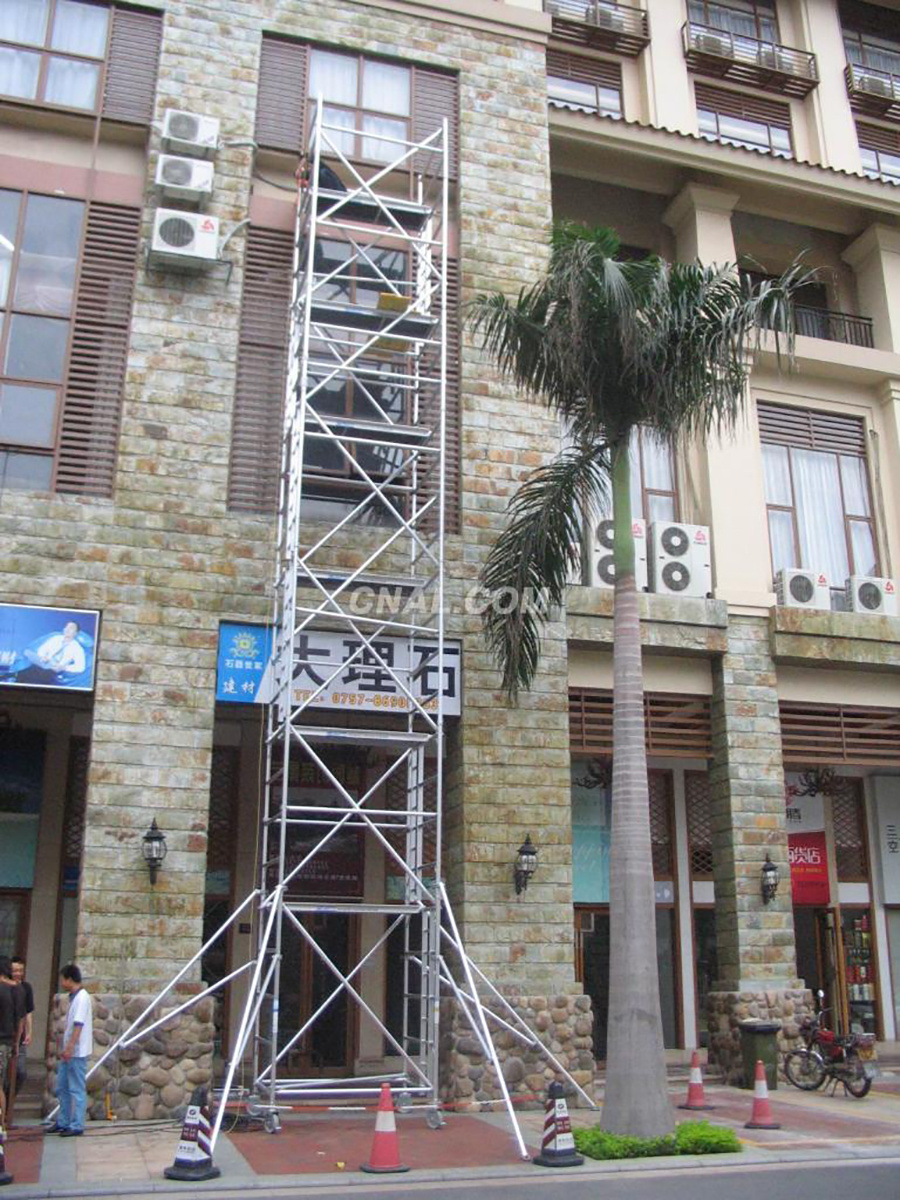 3. Wide enough
What allows the workers to work freely on the scaffolding without pressure? Of course, mobile aluminum alloy scaffolding available space. Using mobile aluminum scaffolding, workers have enough room to stand and place construction tools.
Aluminum alloy foot and hand size options include:
Width: 750mm, 1.35M
Length: 2 meters
Height: 1.8 m, 2.3 m, 2.7 m, 3.1 m, 3.5 m, 3.9 m, 4.3 m, 4.7 m, 5.1 m, 5.5 m.....
Portable aluminum scaffolding, which can be used both outdoors and indoors, takes up little space for transportation and storage. Quick and easy to install and fold without tools, it is small enough to fit through a door and is very easy to use.
Guangzhou Yida Machinery Co., Ltd. was established in 1999, is a super R & D ability of template, scaffolding equipment manufacturers, after 20 years of continuous development, Yida Machinery has developed into a set of consulting, design and development, production, sales, service in one of the integrated enterprise, in need of customers, welcome to consult.