Quick loading scaffold: Aluminum alloy quick loading scaffold features do you know?
Characteristics of aluminum alloy quick loading scaffold: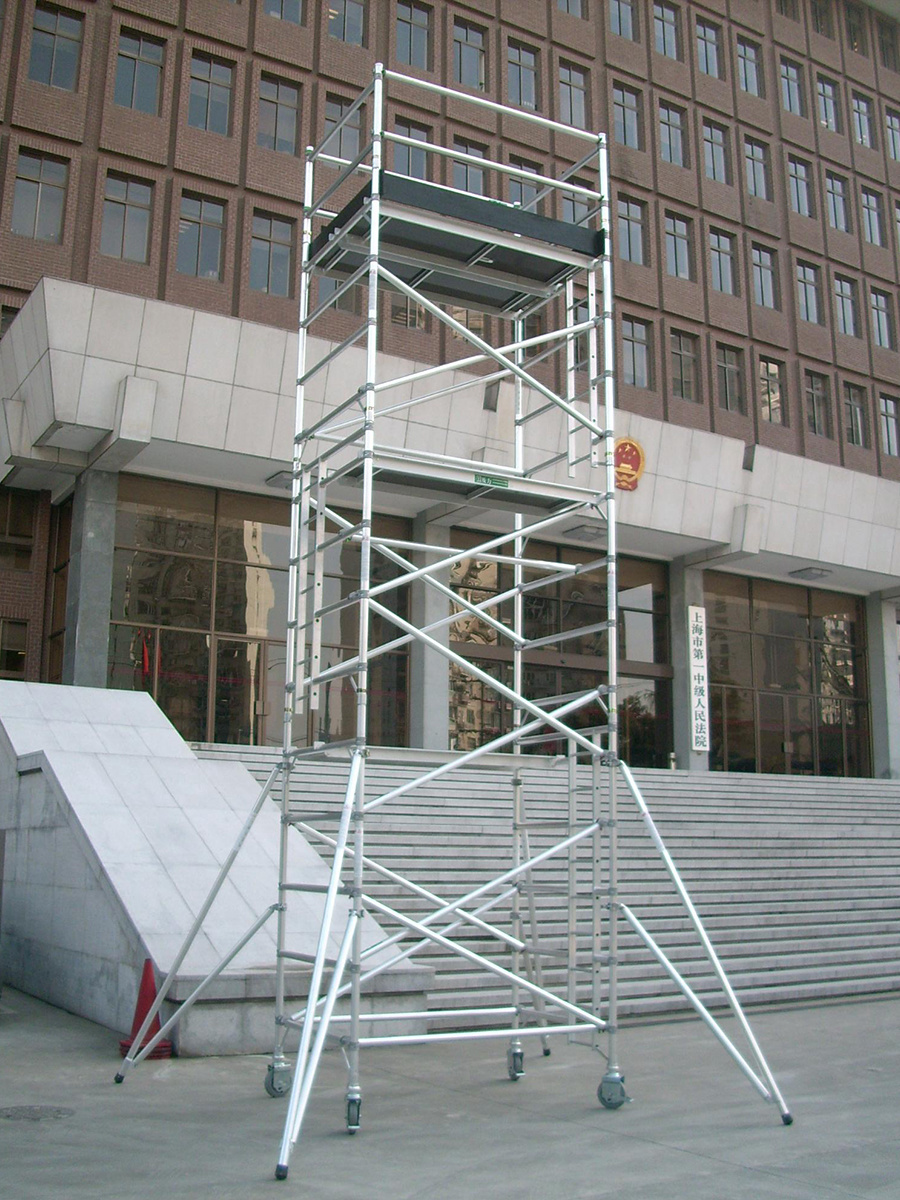 1. Aluminum alloy quick loading scaffold is light in weight
Using lightweight and very strong aviation aluminum alloy as the material, the components weigh very little and are easy to install, transport and store. The scaffold weighs only one-third as much as a traditional steel scaffold, so there is no need to worry about crushing the floor.
2. Aluminum alloy quick loading scaffold has stable structure
The connection strength of the components is very high, very stable, the design of the supporting mechanism is very scientific, and the overall structure is stable and reliable. Using the new cold working technology of internal expansion and external pressure, the destructive drawing force of scaffold joint reaches 4100-4400Kg, which is much greater than the allowable drawing force of 2100Kg. The 12 m high double width frame has a capacity of up to 500Kg. Each tower weighs 272Kg and the whole tower weighs 900Kg.
3. Aluminum alloy quick installation scaffolding is simple, fast construction and disassembly
The overall structure adopts "component" combination design, with standardized components, no loose parts. Without any installation tools, two workers can build a 20-meter-high platform in a short time.
4. Aluminum alloy quick loading scaffold is easy to move
Equipped with high strength casters with brakes, it can be moved and locked freely, very convenient for continuous use in multiple different operating positions.
5. Strong applicability of aluminum alloy quick loading scaffold
The height of the legs can be adjusted freely and can be used according to steps, stairs and complex terrain; With the help of polyurethane casters, you can avoid damaging marble, wood floors and lawns; It can be used in narrow Spaces (such as elevators, doors, etc.), structures, and operations; Diverse combination and beautiful appearance.
6. Aluminum alloy quick loading scaffolding combination building is very flexible
It can be specially designed and manufactured according to the special maintenance or operation requirements of users for different landforms and environments.
7. Aluminum alloy quick loading scaffold anti-corrosion and maintenance free
All parts are treated with special oxidation resistance, no rust, no corrosion of chemicals, joints are solid sandblasting castings, product life of more than 30 years, no maintenance.