Let's talk about the characteristics of mobile scaffolding
Mobile scaffolding refers to all kinds of supports erected on a construction site for workers to operate and handle straight and horizontal transport. A GENERAL TERM USED IN THE CONSTRUCTION INDUSTRY TO refer TO a construction site used on an EXTERIOR wall, interior decoration, or where the height of the building is too high for direct construction. Mainly for the construction personnel up and down work or peripheral safety net protection and high altitude installation components.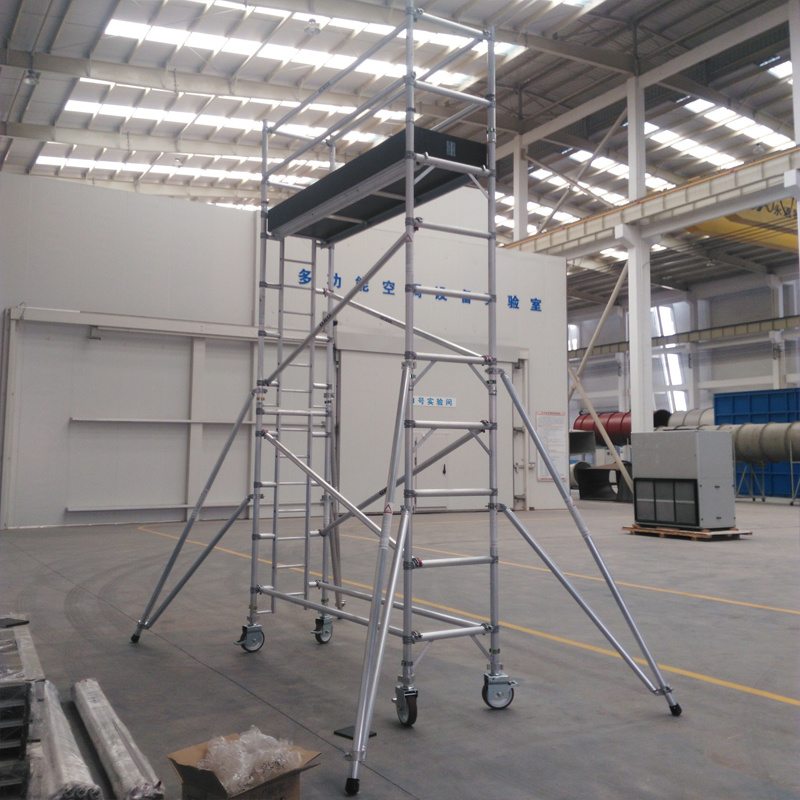 To put it bluntly, scaffolding manufacturing materials generally include: bamboo, wood, steel pipe or synthetic materials. Scaffolding is also used as a template in some projects, and it is also widely used in advertising, municipal, traffic, Bridges, mines and other sectors. Mobile scaffolding is used as a basic building device.
Widely used in a variety of large and small construction sites, played a great auxiliary effect. And its development process is appropriately long, from the beginning of imperfect to close to perfect step by step, experienced a very long process. Mobile scaffolding is mainly composed of main frame, transverse frame, interspersed diagonal support, foot plate, adjustable base and so on.
The interspersed tie rod, also known as the oblique tie rod, is a longitudinal interspersed tie rod connecting two pairs of door frames. The pressed part at both ends of the rod has a pin hole, and the lock pin on the bracket bracket is locked when assembled. Surface treatment: electroplating (cold galvanized), zinc dip (hot galvanized) casters: also known as the ground wheel, can be installed in the lower part of the mobile scaffold, forming mobile scaffold. Can be installed as mechanical and electrical.