There are five advantages of aluminum alloy quick loading scaffold, do you know
Aluminum alloy quick loading scaffolding provides builders with a temporary platform on which to operate, often used for building construction or cleaning, lighting maintenance, equipment maintenance, etc.
Scaffolding is usually made of steel or aluminum, but for those in the construction industry, there are many advantages to using aluminum scaffolding, even if it costs more than steel scaffolding. Compared with steel scaffolding, aluminum alloy quick loading scaffolding has five advantages.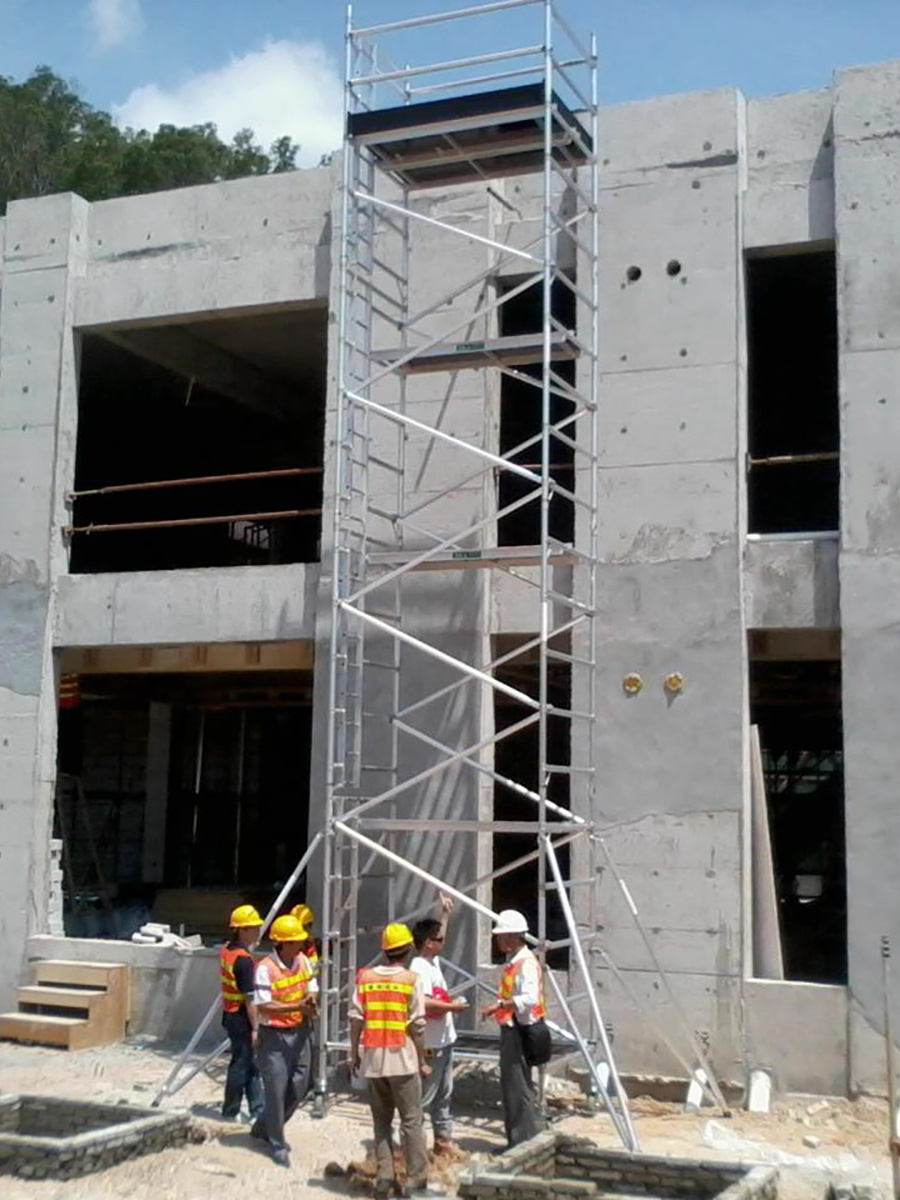 First of all, aluminum alloy quick loading scaffolding is a lightweight springboard.
It's much lighter. In fact, the aluminum scaffolding is less than half the weight of the steel scaffolding.
Due to their light weight, aluminum foot plates are not only easier to transport from one place to another, but they can also be easily constructed and disassembled on the construction site.
Second, aluminum alloy quick loading scaffolding requires less labor
When aluminum scaffolding is used, less labor is generally required. Not only will less manpower be needed, but cranes may not be needed. When aluminum scaffolding is used, it minimizes the risk of on-the-job injury and construction accidents.
When aluminum scaffolding is used instead of steel scaffolding, it can be built and broken down with as little as two people, compared to the four needed for steel. Similarly, aluminum footrests can be transported in pickup trucks.
Third, aluminum alloy fast installation scaffolding construction faster.
Aluminum scaffolding is easier to install and faster to build than steel scaffolding. The aluminum footstool is equipped with high strength casters for quick and easy installation. Frame design usually does not require installation tools.
With easy assembly and disassembly, construction workers can keep downtime low and move from one workshop to another.
Fourth, aluminum alloy quick loading scaffolding has a variety of uses.
No matter what scaffolding is needed, aluminum footrests serve a variety of purposes. Here are some.
A. Single and double width scaffolding - moving aluminum towers that can be installed without tools
B. Ladder footstool walking - easy access to the top platform when climbing safely
C. Collapsible scaffolding - the bottom frame can be folded.
In addition to this type of scaffolding, custom scaffolding can also be made of aluminum alloy.
Five, aluminum alloy quick loading scaffolding long life
When aluminum scaffolding is scratched, it forms an oxide layer that helps protect the heart. This layer of natural alumina prevents the metal beneath it from being exposed to air and oxygen. When steel scaffolding is scraped, it will rust and eventually weaken the structure.
After repeated use, the aluminum alloy footstool will not crack or rust after being exposed to various environments. Aluminum is known for its resistance to dents and elasticity. This will not only strengthen, but also extend life.
The above is the overall overview of "aluminum alloy quick loading scaffolding has five advantages, do you know", you can refer to it.