What are the characteristics of aluminum alloy quick loading scaffold and steel pipe scaffold
With the development of The Times, the original scaffolding is slowly replaced, the old scaffolding is made of wood, probably many people have seen. After all, this scaffolding hasn't been around for much longer. Later steel scaffolding replaced wood scaffolding. Up to now, aluminum alloy quick loading scaffold has replaced steel pipe scaffold. What are the characteristics of this aluminum alloy quick loading scaffold? Let's go through them one by one.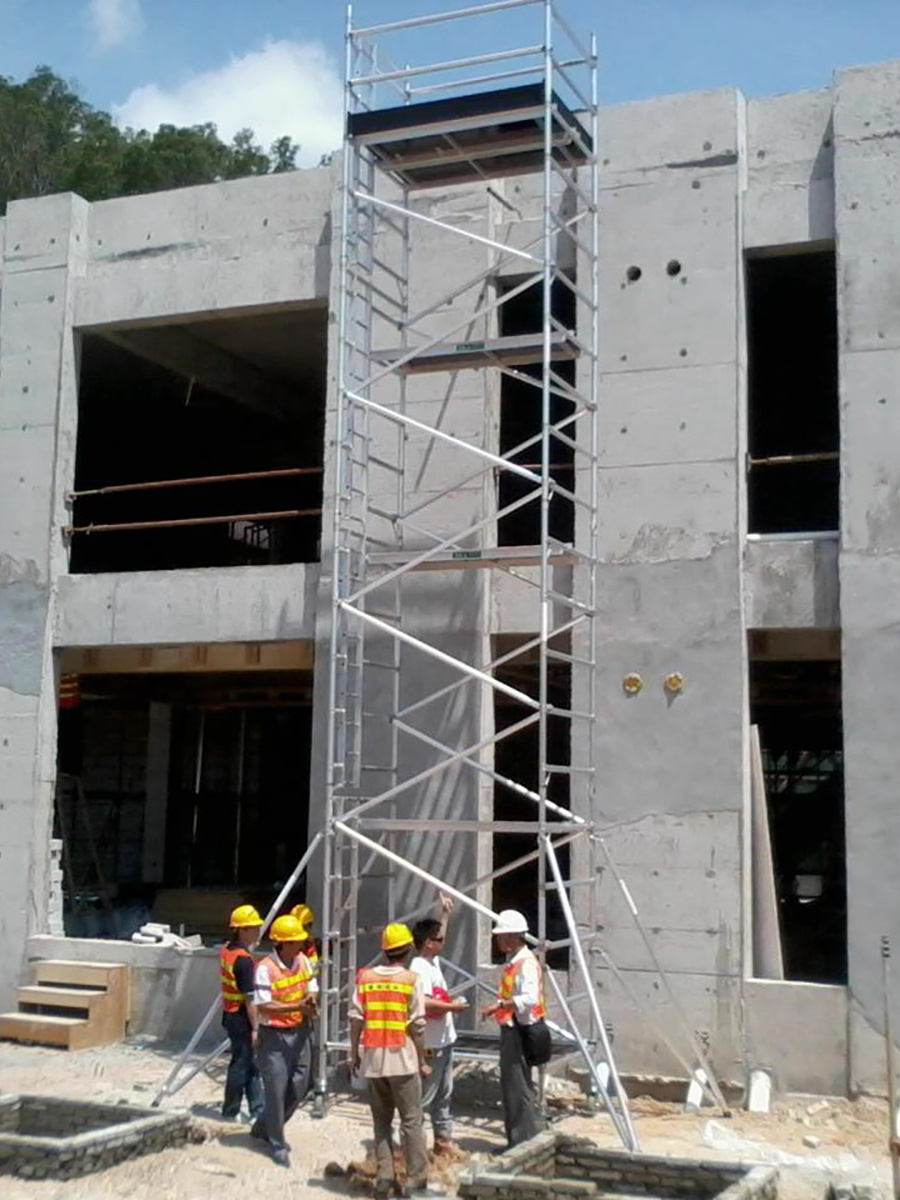 Aluminum alloy quick loading scaffold function:
1. All scaffold components are controlled by computer, completely eliminate welding, luxurious appearance, easy to load and unload, prolong the life of scaffold, and ensure 10 years of structural strength.
2. Light channel type decks are also suitable for scaffolding decks and 9,1 m long aluminum work decks are available. The load is 720 kg per vehicle, allowing multiple people to work simultaneously.
3. The UpRight Bay non-slip surfaces are safe to climb upright outside even on rainy days, making for safer operations. Aluminum alloy quick loading scaffold
Nitino-al material, light weight, UpRight, cold expansion and cold press exclusively. In the static experiment, the strength is more than 3 times that of the welded frame. In the dynamic experiment, it can withstand 250,000 experiments
5, the self-locking hook does not need to be adjusted in advance, the spring self-locking, triangular head design, high air anti lock break, can bear heavy pressure, greatly improve the stability of the springboard. Different components are identified by color code to save time and can be installed quickly and easily using self-locking hooks.
6, the working platform is self-locking hook activity open platform plate, easy to install, high quality plywood platform plate anti-slip anti-UV, light weight, open valve platform convenient for employees to go to other working layers.
7, aluminum alloy footstool used universal caster adjustment range of 0.4m-0.8m, uneven level of environmental regulation level, adjustable foot unique design, convenient speed, universal wheel, mobile rotation flexible.
8. Polyurethane traceless casters do not damage the ground, and lock casters are used to improve the stability of scaffolding. Movable continuous casting machine oil corrosion - proof, do not make the lobby marble floor.
9, Folding aluminum alloy footrest UpRight unique design, folding, installation can be quickly unfolded, easy to store.
10. The skirting line prevents workers from stepping in the air or falling tools, and the skirting line locks the platform board so it doesn't shake.
What are the advantages of aluminum alloy quick loading scaffold?
Aluminum alloy quick loading scaffold has advanced design, unique technology and convenient assembly, which is suitable for power generation, power supply, civil aviation, ships, hotels, industrial and mining enterprises, large pipelines, indoor cleaning and other industries. Iron scaffolding is cumbersome to use, built without aluminum scaffolding, loading capacity is weaker than aluminum scaffolding. Aluminum alloy scaffolding each layer of tower work platform can bear 270 ~ 600 kg weight. Aluminum alloy quick loading scaffold features:
1. Light weight, light weight, strong aluminum material, aluminum foot parts light weight, easy to install, transport and storage.
2, bearing capacity, each floor tower working platform can bear 272 ~ 600 kg weight.
3, the construction, disassembly is simple and quick, two workers can build a height of 20 meters high working platform in a short time, do not need any installation tools. Aluminum alloy quick loading scaffold
4. Easy to move, equipped with high strength belt brake, can move and lock freely, aluminum scaffold can be used continuously in multiple workplaces.
5. The leg height can be adjusted freely with strong applicability, and can be used according to stairs, stairs and complex terrain. Aluminum alloy quick loading scaffold
6. Corrosion resistance, all parts that do not need maintenance are treated with special oxidation resistance, which are castings with strong connection and high precision. The longevity of aluminum alloy scaffold products can reach more than 30 years.